Now it would seem that I can't seem to sew with the weather, but it all makes sense in my mind. In Kyiv, we had about a week of spring, and now we're back into fall-like weather. In the 40s(single digits for those who only know Celsius) and dreary. So it would seem it's a weather appropriate outfit right? Let's get to the sewing- the jacket is Burda 7212, a mash between view B (lapels, no peplum) and view A (buttons). I made a size 38 with the side seams sewed at 1/2 inch, and a giant wedge taken out of the shoulders. Looking at the photos, you can tell that the shoulders are very line-backery. Right? The wedge was 1.25 inches- a little over 3 centimeters.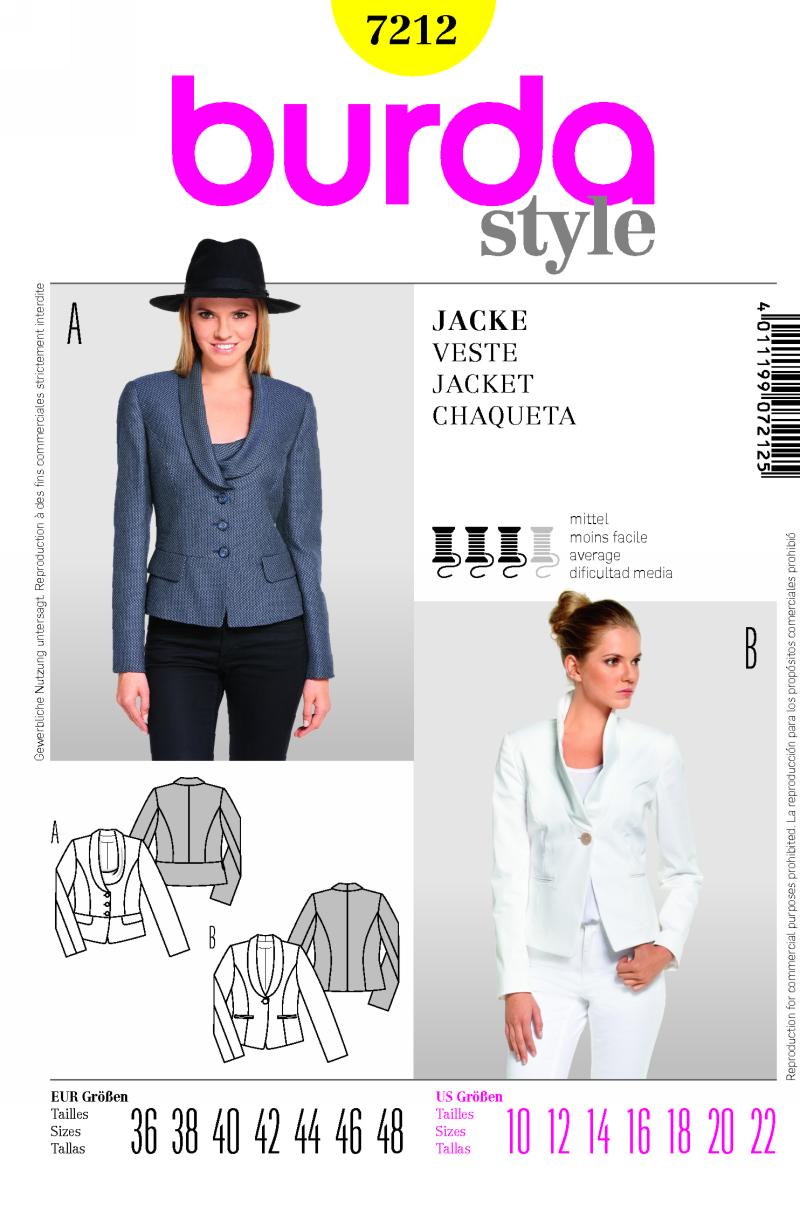 As I mentioned in my previous post, this is a wearable muslin, so no interfacing was used in the sewing of this jacket. It shows. The fabric is a double sided wool from Turkey. It's kind of a mix between brown/black/green.
It is also the tiniest bit snug in the waist. I am going to sew the front princess seams at 1/2 instead of 5/8s of an inch and the back princess seams will start as 5/8s and taper down to 1/2. This should take care of the snugness. For once though, the sleeves are a. the right length, and b. not ginormous. The shoulders are pretty perfect.
A view from the back, where you can tell that I sewed the lining too tight. One of the major changes I am making to the super lovely jacket, is that I will be using facing for all the hems. It should make a difference in how it sits, right? And now for the second part of the sewing. The button down. I used McCalls 6649 by Laura Ashley. I think it's the size 12 with the d cup and without the front darts. I don't know for sure, as I didn't mark the size on the tracing of the pattern.
The fabric is a super lightweight cotton from one of my fabric buying sprees. I got it in a great fabric store in Lawrence, KS. It's probably where I'll spend my $100 allotted for that vacation this summer. As it was super lightweight, I didn't want to use regular interfacing, as I felt it would be too thick and heavy, so I used a lightweight white cotton batiste, from the scraps of my hot air balloon dress. I think it would look better with higher waisted jeans. Where are you Ginger jeans kits? The jeans I am wearing are Eddie Baur, not my favorite, but they pretty much what I have right now.
For the construction, I halfway followed Sewaholics tips on collar making, but I like to make the collar and collar stand and then attach the whole thing together.
The back actually does fit well, I was wearing a tank top underneath, and the cottons kept on sticking together. I was worried that it would be too shear. I realized halfway through the day that I forgot to sew on the last button! That's what I get for finishing an outfit before work.
My options for pictures were limited this time around because over half of them the collar of the jacket was up. My lovely husband didn't bother to tell me to fix it. Ooops! Anyway, this is what I've been working on. I have cut out my next version, which will have the asymmetrical collar, and be the loveliest shade of hot pink. And one of the most expensive fabrics I've worked with, but it's lovely. It's a super 120s wool from Valentino, it has a little bit of stretch, so I'll be interfacing it with tricot fusible. I have a perfect lining for it, but it doesn't have any stretch. Do you think I should buy another lining for it, or just use what I've got and sew the seams at 3/8ths inch? While you think about it, here's a picture of the statue- I have no idea who Zhambil Zhabaev is, but his statue is right across from my work in the park. I need to learn more about Ukrainian history! Happy Sewing.